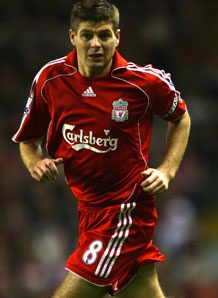 Biography
Born: May 30, 1980
Hometown: Whiston, England
Position: Midfielder
Clubs: Liverpool
Special Skill according to FootballGoalz: His long distances powerful shows and through passes between the defence.
Steven Gerrard has been the poster boy for Liverpool for the past decade. Gerrard is a hard working midfielder, with an offensive flair. Gerrard is known to have scored some of the most incredible long range goals. His shot is devastating and very accurate. He's an England international, and has won many individual awards during his career.
Steven Gerrard Pictures (Coming Soon)
Steven Gerrard Wallpapers (Coming Soon)
Steven Gerrard Videos:
[tubepress mode='tag', tagValue='Steven Gerrard']