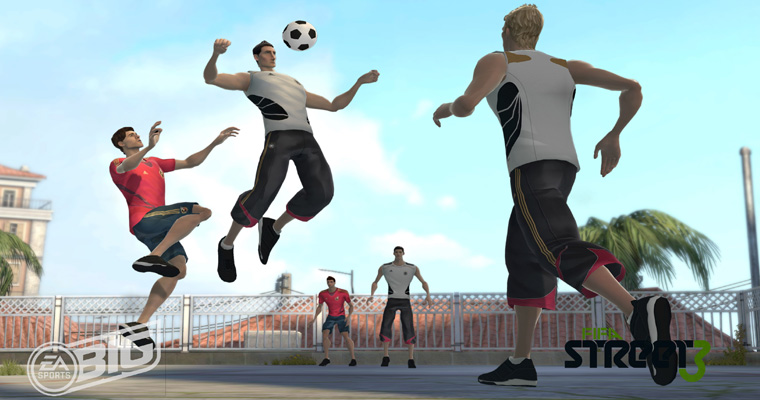 One look at FIFA Street 3 and you will think that EA Sports created the perfect crowd pleaser game with its awesome character maneuvers and graphic design. In fact, looking at trailers and ads and seeing characters being able to perform jaw-dropping maneuvers are enough to attract you to this game. But sadly, once you've done crossing the door, this first impression doesn't last.
Just by spending a few minutes playing the game, you will easily notice the flaws and cheapness in terms of FIFA Street 3's game play and general concept. And these mistakes cannot be compensated no matter how amazing the general look and graphics of the game are.
We all love football, the intensity, the feeling of triumph, the hardship in every tactic – these are all the things that makes football "football." Now I don't know about you, but as for me, a game without those elements cannot be considered football. The idea that FS3 removed the game from the classic stadium is acceptable, after all that is the very concept of EA's Street Series. But moving the game into a different milieu and then changing most of its principles is console suicide.
FIFA Street 3 implodes before a player gets a chance to become hooked to the game. Why? No matter how addicting its graphics are, the rules and technicalities of the game lack a good plan. In fact if you don't know how to plan at all, this could be the game for you. You can easily win by depending on the Gamebreaker feature. You fill it, you lock-in, you kick, you score, do it repeatedly and you win! FIFA Street 3 didn't take full advantage of the Xbox platform. Why did the developers render a very easy game play to represent a respectable sport and then place it on a powerful platform? Well, if they really wanted to make things as simple as finger stretching, then they did it very well.
On the other hand, FIFA Street 3 isn't all bad. It does have a couple of strong points. For one, if you're new to football or football games, this is a good title to start with. Unlike other football games and the real football, in FIFA Street 3, you can play a game with only four players: Tricksters, Enforcers, Playmakers and Finishers. Winning is easy too, aside from the easily exploitable Gamebreaker, you can enjoy as much of your football possession time as possible since the defense system of the opposite team is almost negligible – this is perhaps slightly exaggerated, but the only reason for you not to score is if you try not to. And this is even more evident when you play against the AI. In short, AI players lack the "I" in effect.
If there is one game that's great on the outside but really lousy on the inside, that would be FIFA Street 3. I apologize for the harsh words, but the day you experience something that looks really promising and impressing at first, but later turns out to be a disappointing hoax, you will know what I mean. Rent it, play it, discard it – don't buy it!
FS3 Trailer

Rating 5.5 / 10 – Go back to the school bench EA, you failed that class!