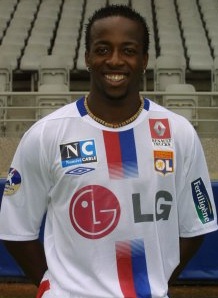 Biography
Born: July 27, 1979
Hometown: Le Puy-en-Velay, France
Position: Attacking midfielder, winger, striker
Clubs: Lyon
Special Skill according to FootballGoalz: His outstanding pace and technique.
Sidney Govou plays for Lyon in La Ligue 1 and has been a big part of the clubs' success over the past years. Govou has good speed and combined with his technique, he causes trouble to opposing defenders and creates space for his teammates. He's not too shabby in front of the goal either, having netted a number of goals, both for Lyon and France.
Sidney Govou Pictures (Coming Soon)
Sidney Govou Wallpapers (Coming Soon)
Sidney Govou Videos:
[tubepress mode='tag', tagValue='Sidney Govou']